Andy Bowyer
Wimmer Takes Moto 1 at Ballance MX
Time
Sunday, April 13, 2008 | 12:00 AM
WIMMER GOES FIVE FOR FIVE, WINS FIRST MOTO AT BALLANCE MOTO X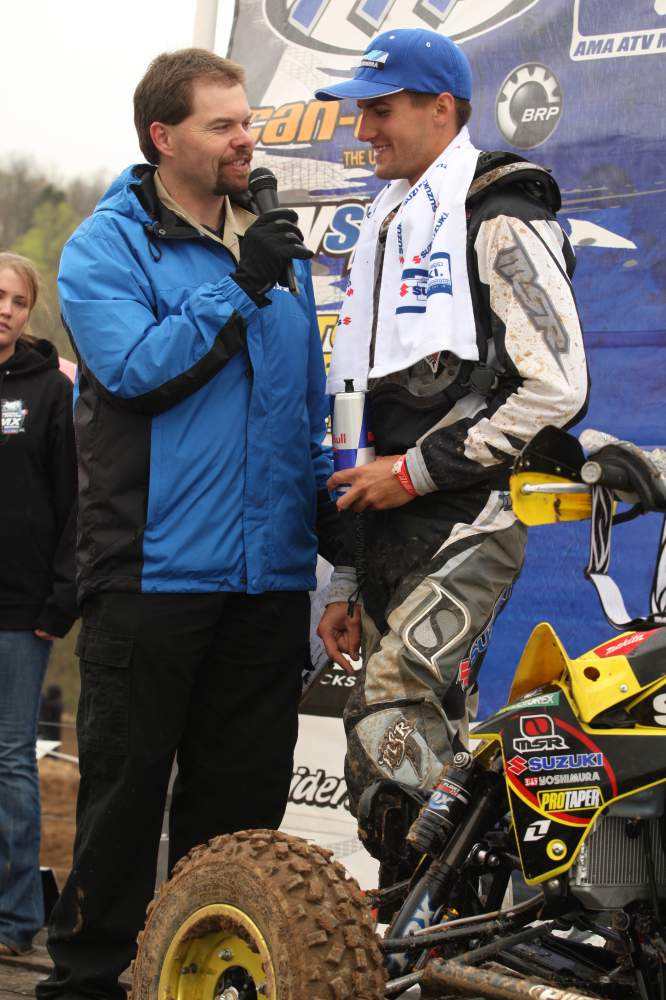 BOWLING GREEN, Ky. (April 13, 2008) -- Dustin Wimmer continued his quest for perfection in the ITP Tires/Moose Racing AMA/ATVA Pro ATV Championship Series presented by Parts Unlimited, winning Moto 1 Sunday at Ballance Moto X. Wimmer (191 Team MSR/Suzuki/Yoshimura/Pro Taper) remains perfect in ATV Motocross competition by winning his fifth consecutive Pro Moto.
John Natalie (No. 13 Can-Am) took the Suspension Systems Holeshot Award and dominated the early laps of the race. However, Natalie went wide in the NASCAR turn on lap seven and went off the track. Wimmer took the lead and dominated the event. Natalie was unhurt and returned to the track to finish 17th. Doug Gust (No. 55 Team Rockstar/MSR/Suzuki/Yoshimura/Pro Taper) finished second, ahead of the No. 9 Monster Energy Drink/Kawasaki of Josh Creamer.
"Fortunately for me, John (Natalie) came off the bike, but you have to make the most of your opportunities," said Wimmer. "I was catching him a little bit before that, and luckily I was where I needed to be when I needed to be there.
"I'm thinking about six in a row," added Wimmer, talking about today's second moto. "How can't you?"
Moto 2 is scheduled for 3 p.m. today. Please stay tuned to ATVMotocross.com for a full report of Pro racing from this weekend, as well as a report on the Amateur, Youth and Women's classes.
Moto 1 Results - Ballance Moto X

Pos

#

Rider

1

191

Dustin Wimmer

2

55

Doug Gust

3

9

Josh Creamer

4

44

Chad Wienen

5

22

Cody Miller

6

91

Jasmine Plante

7

708

Harold Goodman

8

8

Russell Shumaker

9

101

Rocco Arno, Jr.

10

199

Pat Brown

11

12

Keith Little

12

98

John Ragon

13

10

Greg Gee

14

49

Sage Baker

15

46

Richard Pelchat

16

7

Joe Byrd

17

13

John Natalie

18

20

Josh Upperman

19

16

Jeremy Lawson

20

19

Jason Dunkelberger