Andy Bowyer
WIENEN FASTEST AS STARTING LINE-UP SET FOR BLUEGRASS ATV NATIONAL
Time
Saturday, April 12, 2008 | 12:00 AM
WIENEN FASTEST AS STARTING LINE-UP SET FOR BLUEGRASS ATV NATIONAL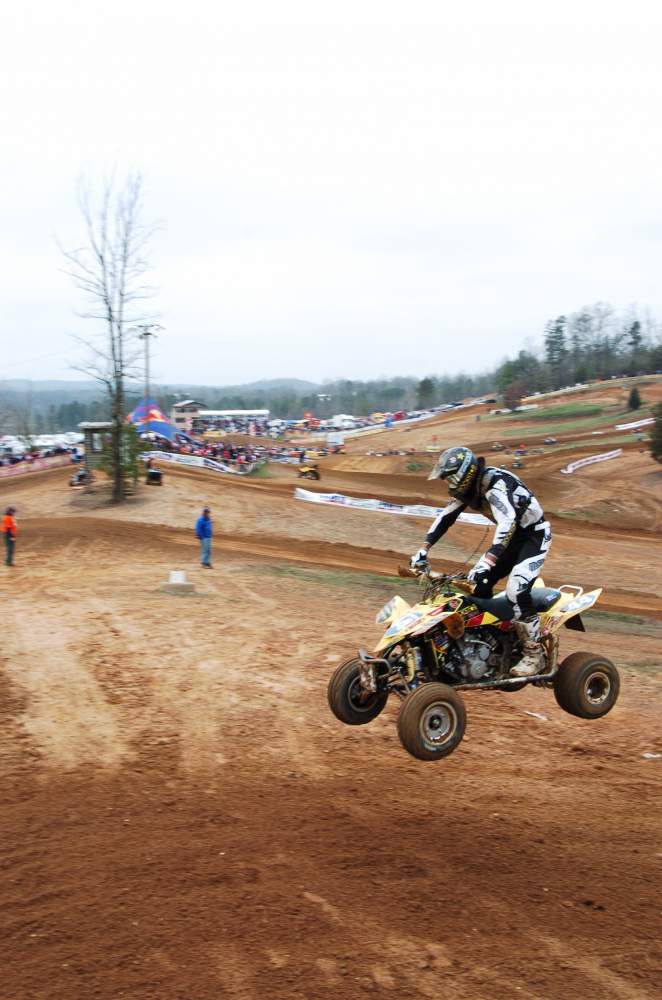 BOWLING GREEN, Ky. (April 12, 2008) -- Chad Wienen put his name on top of the order, recording the fastest time in qualifying Saturday for tomorrow's Bluegrass ATV National at Ballance Moto X. The event is Round 3 of the 2008 ITP Tires/Moose Racing AMA/ATVA Motocross Championship Series presented by Parts Unlimited.
Wienen (No. 44 Team Rockstar/MSR/Suzuki/Yoshimura/Pro Taper) in fact turned the fastest lap of the day, recording a time of one minute and 47.055 seconds. Josh Creamer (No. 9 Monster Energy Drink/Kawasaki) was second quickest, just three tenths off of Wienen's time. Points leader Dustin Wimmer (No. 191 Team MSR/Suzuki/Yoshimura/Pro Taper) completed the top three.
"This team is just so dedicated to excellence," said Wienen of his Team Suzuki factory squad. "They choose the best components and, by far, we have the fastest bikes out there.
"It's just a total package," Wienen continued. "I do my training to keep my end of the bargain up, but it makes it much easier to have the bike to back that up. I just went out there and did whatever I could to make the team look good."
Josh Upperman, John Ragon, Rocco Arno, Jr., and Richard Pelchat all qualified for the final through the Last Chance Qualifier (LCQ). Thomas Hager, Nate Morello, Greg Meeks, Hunter Miller, Trent Kandel, Justin Bush and Christopher Tait didn't qualify.
Racing continues tomorrow with final Pro qualifying scheduled for 10 a.m., followed by final motos at noon and at 3 p.m. Tomorrow will also feature a full card of Amateur, Youth and Women racing.
Qualifying Grid Bluegrass ATV National

Pos

#

Rider

Lap Time

1

44

Chad Wienen

01:47.055

2

9

Josh Creamer

01:47.853

3

191

Dustin Wimmer

01:47.961

4

13

John Natalie

01:49.116

5

22

Cody Miller

01:49.593

6

199

Pat Brown

01:50.044

7

10

Greg Gee

01:50.425

8

16

Jeremy Lawson

01:50.658

9

55

Doug Gust

01:50.948

10

7

Joe Byrd

01:51.009

11

12

Keith Little

01:51.177

12

91

Jasmine Plante

01:51.412

13

708

Harold Goodman

01:51.732

14

68

Russell Shumaker

01:51.743

15

49

Sage Baker

01:51.912

16

19

Jason Dunkelberger

01:52.051

*17

20

Josh Upperman

01:52.285

*18

98

John Ragon

01:53.258

*19

101

Rocco Arno, Jr.

01:53.709

*20

46

Richard Pelchat

NT

*Qualified through the LCQ