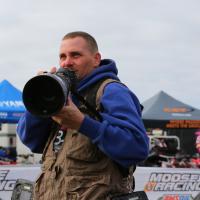 Ken Hill
Time
Friday, July 28, 2023 | 1:25 PM
FOR IMMEDIATE RELEASE
Briarcliff ATVMX National Championship Race Report
Joel Hetrick Earns 2023 AMA Pro ATV Motocross Championship
NASHPORT, Ohio (July 28, 2023) - An incredible weekend of racing greeted the ATV Motocross National Championship Series, an AMA National Championship, as Briarcliff MX rolled out the red carpet and welcomed the racers, vendors and fans with open arms and big smiles. Immediately noticed were the changes made to the track and it was soon receiving high praise from those tasked with racing on the Ohio soil. Optional lines had been made to offer passing and the jumps were challenging, however the dirt itself was tricky. What looked hard packed in places were horsepower robbing soft and spongy that actually started showing blue groove. Other areas were rut filled and gnarly and it all combined into a very exciting track.
For the AMA Pro class, the challenges on the track were noticeable and several racers found themselves making changes in hopes they could find the set up that would allow them a leg up over their competitors. Pro qualifying would prove who had a set up they could race with including Musick Racing/Déjà vu/Kenda Tires' Brandon Hoag who marched out and took the fastest laps in both sessions. Having someone other than Phoenix Racing Yamaha's Joel Hetrick as fastest qualifier was turning attention to others who showed glimpses of things to come as moto one was drawing near. And while qualifying first doesn't equal wins, Hoag was primed to get on the gate and see if he could take the fight to Hetrick. For Hetrick, the day held a ton of stress which he was handling well. A win and a solid finish ahead of Ford Brothers Racing/FXR/SSi Decals/CST Tires' Bryce Ford would hand him the 2023 championship, his fourth, and wrap things up a round earlier than we have seen in several seasons.
With near perfect weather all weekend, a championship on the line and Hoag fans cheering, moto one was heading to the gate. The vibe was a mixed bag of those wanting to see him take a win and still watch Hetrick scoot away with the championship which was quite possible, and it was an exciting moment in time as the large fan turn out watched closely as the pro class started to get on the gate. Mechanics and riders alike faced the same gut check as go time approached and there seemed to be something just a bit different in the air as the 30 second card came out.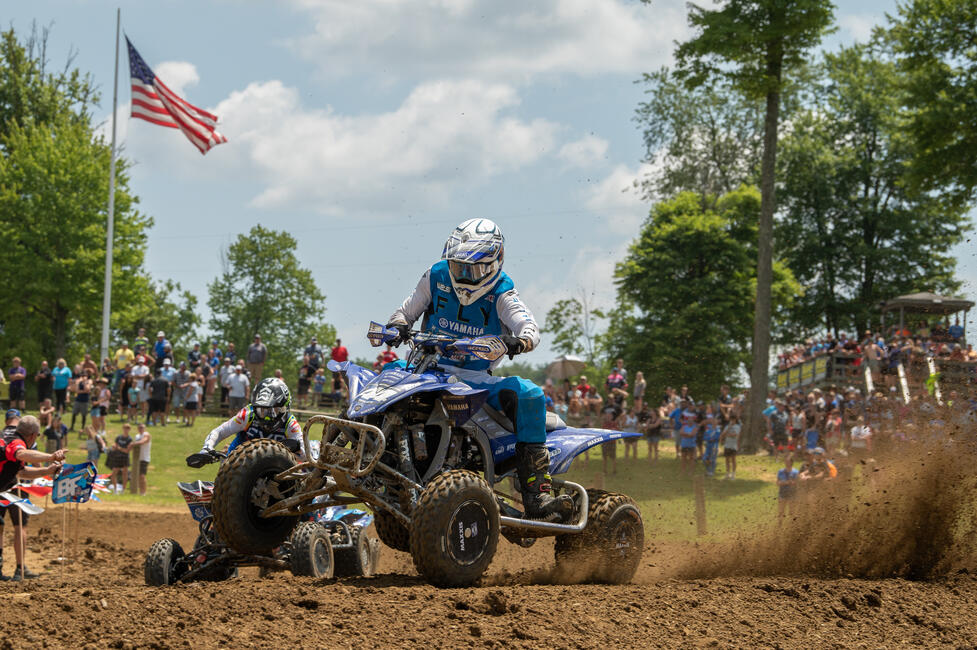 The gate dropped and a wall of roost flew high as the class streaked to the first turn. Hoag was on fire as he grabbed himself the holeshot and it was clear he was leaving nothing behind and continued to set a blistering pace. Hetrick was charging hard but wasn't about to blow his season by making mistakes and remained in the second spot as he hunted Hoag relentlessly. The pass came out of a corner in a back section as Hetrick out powered Hoag to take over the lead however Hoag wasn't going down without a fight. One mistake by Hetrick and Hoag was on him to capitalize. The pair continued this intense moto and when the checkers flew, Hoag was only two seconds off Hetrick.
The battle behind the front runners was proving to be a dogfight in its own right as Wienen Motorsports/Maxxis/SSi Decals/Fly Racing/Yamaha's Chad Wienen worked his way into third and held that spot until the finish with Rastrelli Racing/FXR Moto/Rocket Machine Designs' Jeffrey Rastrelli taking fourth and B. Ford rounding out the top five.
Changes resumed in the pits as the downtime between motos allowed discussion, reflection and some strategy to be mulled over. The time between motos seems like a very large gap in the day however it flies by and in no time the riders were once again heading to the line. Nerves would probably be Hetrick's number one obstacle and if they were hitting, he wasn't letting it show. For others, thinking along season lines, it was the angst of trying to finish where they needed to bring the points to their favor or to hold the line.
The chatter on the line was lighthearted but far less than earlier in the day. It was indeed go-time and with tons of pressure on the line, everyone just wanted a good clean start and a chance. The gate dropped for the final time and once again it was Hoag out pacing everyone as he secured his second holeshot of the day! Within a few turns it appeared this moto would play out like the first however Hetrick wouldn't have to do much work to take the lead as Hoag made a mistake that planted him allowing Hetrick to have open track in front of him and no real pressure coming after him. For the remainder of the moto, Hetrick put his head down, hit all his marks and rolled across the finish line taking the season championship and marking his 4th of his career.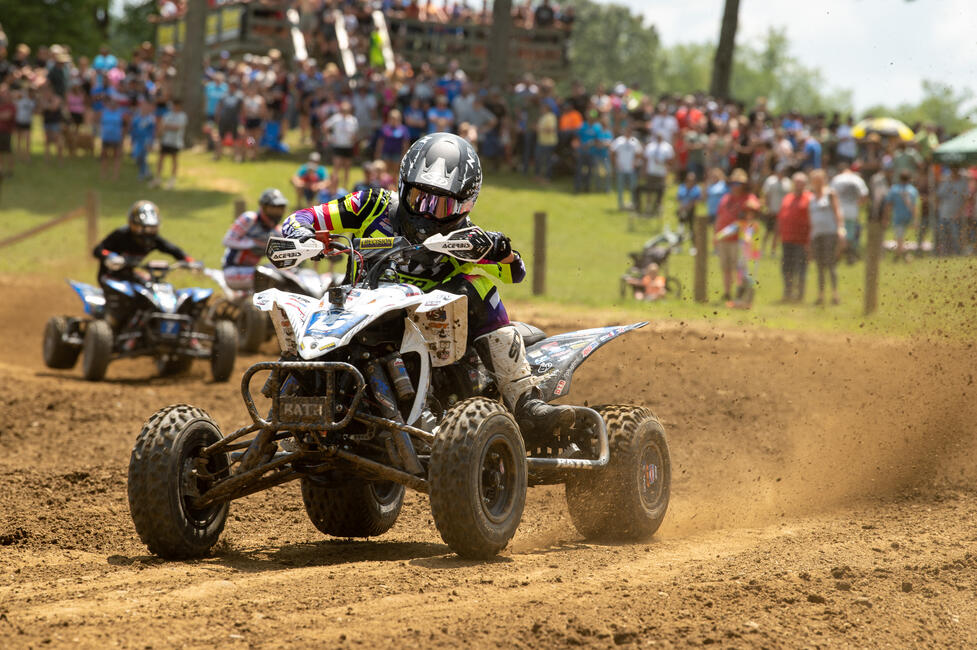 After Hetrick's finish, it would be Wienen and B. Ford joining him on the podium as the celebration of a great day of racing and the crowning of a champion played out infant of a packed house of fans. Behind the scenes a ruling regarding the optional lane was taking place, and it was later announced that the protest would switch the official finishing order. This would move GennUSA Racing/SSi Decals/CST Tires/ Corrosion Specialties' Nick Gennusa into third overall on the day as B. Ford would move to fourth and Hoag to fifth.
With the final round on deck, Loretta Lynns ATV Dirt Days should prove to be a real throw down as everyone wants one more chance to leave their mark on the 2023 season.
For more information on the ATV Motocross National Championship, visit the series official website at www.atvmotocross.com or call (304) 284-0101. Join the conversation on the series social media channels, along with receiving the most up-to-date news and exclusive content.
Briarcliff Results and Points Standings
Nashport, Ohio
Round 9 of 10
Saturday, July 21, 2023
AMA Pro Class Event Results:
Joel Hetrick (1-1)
Chad Wienen (3-4)
Nicholas Gennusa (7-2)
Bryce Ford (5-3)
Brandon Hoag (2-7)
Jeffrey Rastrelli (4-5)
Westley Wolfe (6-6)
Kevin Saar (9-8)
Aaron Salinas (10-9)
Max Lindquist (8-12)
Overall National Championship Standings:
Joel Hetrick (395)
Bryce Ford (340)
Chad Wienen (321)
Jeffrey Rastrelli (300)
Nick Gennusa (279)
Brandon Hoag (254)
Max Lindquist (226)
Westley Wolfe (210)
Kevin Saar (187)
Logan Stanfield (182)
About the ATV Motocross National Championship:
The ATV Motocross National Championship, an AMA National Championship, is the nation's premier amateur and professional ATV motocross series, hosted at top motocross facilities nationwide. The 10-round AMA Pro and 9-round amateur series features the Nation's best racers, teams and sponsors, and is America's largest and longest-running ATV national motocross program. Since 1985, the series continues to expand and produce top talent from the amateur ranks, while premiering the professional class. For more information, please visit www.atvmotocross.com.
About the American Motorcyclist Association:
Founded in 1924, the AMA is a not-for-profit member-based association whose mission is to promote the motorcycle lifestyle and protect the future of motorcycling. As the world's largest motorcycling rights and event sanctioning organization, the AMA advocates for riders' interests at all levels of government and sanctions thousands of competition and recreational events every year. The AMA also provides money-saving discounts on products and services for its members. Through the AMA Motorcycle Hall of Fame in Pickerington, Ohio, the AMA honors the heroes and heritage of motorcycling. For more information, visit www.americanmotorcyclist.com. Not a member? Join the AMA today: www.americanmotorcyclist.com/membership/join.
Media Contact:
Kayla Bolton
Media Manager
[email protected]