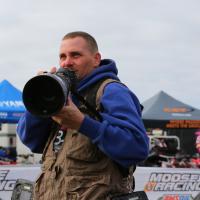 Ken Hill
Time
Wednesday, May 4, 2022 | 10:50 AM
FOR IMMEDIATE RELEASE
High Point ATVMX National Championship Race Report
Hetrick Continues Win Streak in Pennsylvania
MT. MORRIS, Pa. (May 3, 2022) – The ATV Motocross National Championship (ATVMX) Series, an AMA National Championship, headed North to Pennsylvania for round four, the ATV Stampede, of AMA Pro ATV Racing. High Point Raceway would once again be called upon to add to the legendary tracks history as the series racers poured in boasting quite possibly one of the biggest turnouts of the season. Packed gates and great racing allowed those on hand a beautiful day of racing.
The battle for supremacy here is usually fierce as the past has proven to play into Phoenix Racing/CST Tires/Elka/Moose Racing's Joel Hetrick's domination. The mix of hard pack, slick, rough track with monstrous air being a huge highlight in the pro section is exactly why Hetrick has such an incredible record here as it is exactly the type of conditions that make him nearly invincible.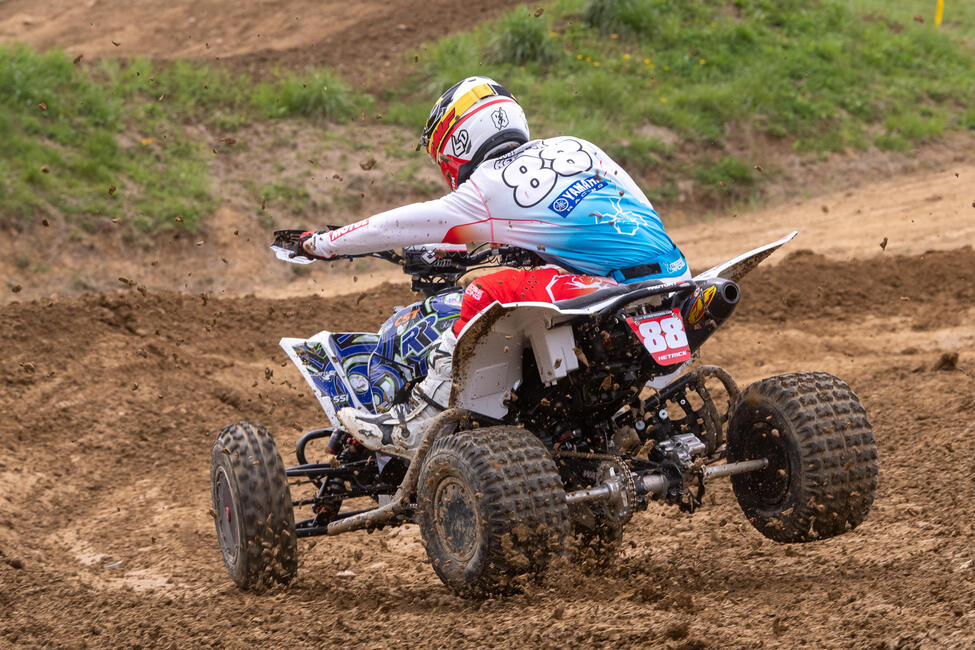 For multi-time Champion Wienen Motorsports/Maxxis/SSi Decals/Fly Racing/Yamaha's Chad Wienen, it is another season of going head-to-head with Hetrick as the pair find themselves locked in a never ending duel for the coveted number one plate come the end of the season. Their history and future will forever be locked together even though every moto is a clean slate, the record book will tell the tale of two of the closest competitors in the sports history. For Wienen, this round was one more chance to break out and take the win and shut Hetrick down in front of his traditional hometown crowd, a very tall order to fill.
As the racers gated for moto one, Hetrick had laid down the fastest lap during qualifying, putting everyone on notice he was more than ready to take another victory here. The gate dropped as the High Point soil churned into a wall of roost. The first turn showed a very equal start however it would be Wienen taking the moto one SSi Decals Holeshot Award as the field readied to hit turn two. For Hetrick, the start was not ideal as he was caught in the middle of the pack in turn two. Wienen would get out of the turn clean, and he looked to be bringing some newfound speed to his program. All eyes were on Wienen who had opened up a sizable lead as those behind him fought mercilessly for every position.
Wienen looked very strong for majority of the moto, and it looked as if Hetrick was going to run out of time to clear the gap between him and the leader. Never counting him out, Hetrick was pushing hard as the gap between himself, and Wienen began to close. The battle was on and Hetrick was watching every move made by the 8-time Champion as he sized him up to try and make the pass. That opportunity came on the uphill triple after a great run out of the corner leading to a drag race that sent both riders high in the sky with Hetrick out jumping Wienen to take the lead.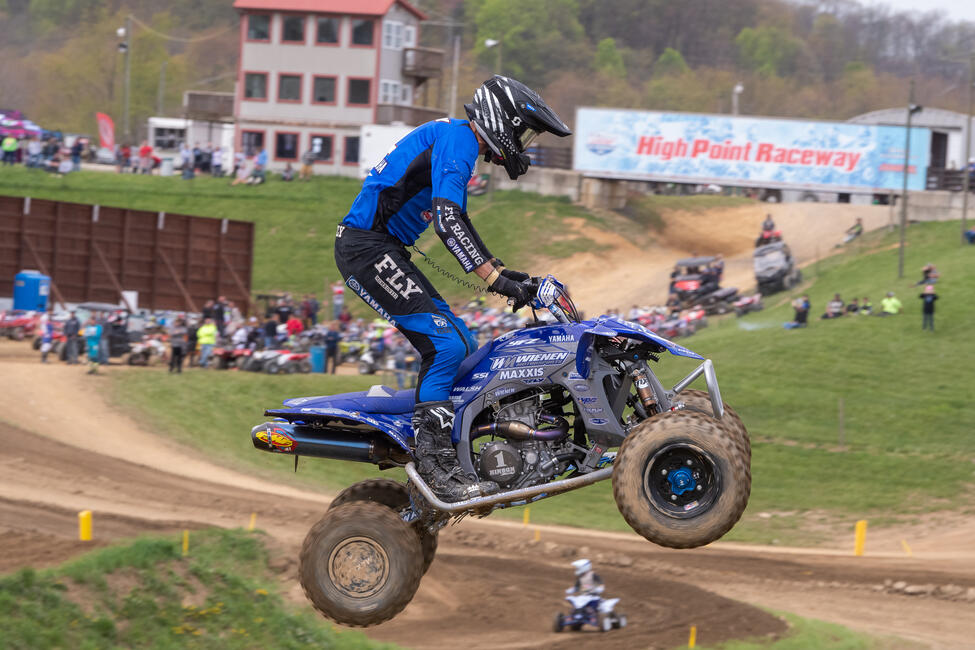 Cheers arose from all over the track as Hetrick was now in complete control and pulling away. For Wienen, saving energy for moto two gave him some time to start putting a plan in place to dethrone a well dug in competitor. The glory would go to Hetrick with the win, followed by Wienen in second however there were some big names doing work in the first moto that were about to make themselves known here at High Point.
Ford Brothers Racing/Fly/SSi/Maxxis/DWT/Maxima/Fourwerx/Walsh Race Craft's Bryce Ford would secure a very well earned third place finish as the podium was locked and Rastrelli Racing/FXR Moto/Rocket Machine Design's Jeffrey Rastrelli finding P4 after battling hard to get through traffic in the first moto. Musick Racing/Déjà vu/Kenda Tires' Brandon Hoag would battle back to round out the top five as the show ended and work in the pits began.
Moto two was growing in anticipation as the AMA Pro riders started making their way to the gate. Nerves and anxiety were running high as pit crews and riders discussed last minute details and strategy once more. The gate dropped and it would be Wienen and Hetrick wheel-to-wheel as the pair came through the first turn. ML2 Motorsports/Walsh Race Craft/Maxxis/Yamaha's Max Lindquist would secure the holeshot as carnage was taking place behind him as Rastrelli and Hoag got caught up and went for a wild ride. Both riders where able to remount and completed the moto with no reported injuries.
Hetrick did not get the start he wanted in moto one, but here in the second moto he was exactly where he wanted and needed to be, out front and laying down some incredible riding. Hetrick would own the moto, posting 1-1 finishes on the day for the overall win, and he would do it with personal flair that sent the crowd wild as he marked his sixth-straight victory at High Point Raceway. For Wienen, a pair of second place finishes on the day would earn him second overall at round four. He was happy as he relayed his day from the podium, however, a Champion is never satisfied with not winning. Now that the series hits its Midwest rounds and the fact that Wienen will be on his home track putting in laps, we should see an even closer fight if that is possible.
The battle for the final podium position would end with B. Ford going 3-4 as the young Texan continues to chip away at his program. Lindquist had a solid day going 7-3 for fourth overall, marking another exceptional race for this talented rookie. GennUSA Racing/Integrated Financial Concepts/CST Tires/Walsh Race Craft's Nick Gennusa would secure fifth after going 6-5 on the day as Gennusa still is struggling a bit to break out and get himself into podium contention.
The racing throughout the weekend was exceptional and a strong turnout which usually means an even tighter field of competition. The WMX racers were of no exception and offered up two solid motos. This class over the years has seen it rival the pro class as fans lined the fences to watch the battle unfold. The class has continued to grow and looks to be attracting even more women racers to join them in the competition. Kinsey Osborn would have a great weekend going 1-1 for a sweep, while also earning two Wheelz Up WMX Holeshot Awards. Osborn now holds the points lead in WMX after four rounds of racing. Andrea Berger put up a valiant effort and would go 2-2 for second on the day in Pennsylvania. Berger holds second in points not only in the WMX class but in Junior 25+ as well. Niamh Shaw found herself leaving High Point with a 3-3 for third overall.
In Pro Sport things got interesting as everyone seemed to be riding like this was the last race of their career. Caution to the wind as this incredibly talented class left everything on the track in both motos. Moto one would see Brett Musick take the win with Aaron Salinas taking second and Jayden Londerville rounding out the top three with third. The action in moto two was just as fierce as the top three remained the same, however, their finishing order was nearly swapped. Londerville would go 3-1 for the overall, Salinas remained consistent posting a 2-2 for second and Musick would go 1-3 for third.
On Sunday the Pro-Am racers would line up to less than ideal conditions as rain came through the area overnight and throughout the morning. With practice and only three riders going out for Pro-Am timed qualifying, it would be the No. #311 of Blair Miller grabbing both moto wins and earning his second overall win in the class of the season. After going 5-2 on the day, Aaron Salinas would earn second overall in the class, while Paolo Galizzi earned his first podium finish of the season in Pro-Am with third overall after going 3-6 on the day.
The series had a full weekend here at High Point Raceway and now sets its sight on Indiana as the next round finds itself focusing on the town of Crawfordsville as we prepare for the Ironman! This track features several very challenging sections for the pros and enough challenge to keep every racer excited. The biggest factor here may be the ever changing weather which can be all four seasons in the same day so be prepared.
For more information on the ATV Motocross National Championship, visit the series official website at www.atvmotocross.com or call (304) 284-0101. Join the conversation on the series social media channels, along with receiving the most up-to-date news and exclusive content.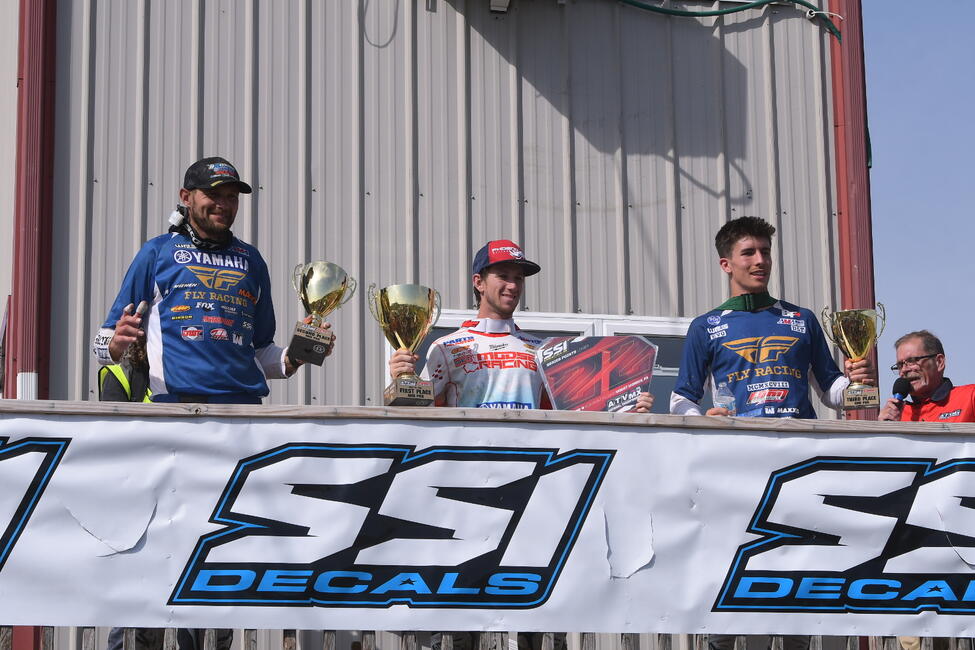 ATV Stampede Overall Results and Points
Mt. Morris, Pennsylvania
Round 4 of 10
Saturday, April 30, 2022
AMA Pro Class Event Results:
Joel Hetrick (1-1)
Chad Wienen (2-2)
Bryce Ford (3-4)
Max Lindquist (7-3)
Nicholas Gennusa (6-5)
Brandon Hoag (5-6)
Jeffrey Rastrelli (4-8)
Michael Allred (8-10)
Logan Stanfield (11-9)
Patrick Turrini (10-11)
Overall National Championship Standings
Joel Hetrick (172)
Chad Wienen (145)
Bryce Ford (136)
Jeffrey Rastrelli (123)
Brandon Hoag (106)
Nicholas Gennusa (103)
Max Lindquist (96)
Michael Allred (88)
Zack Decker (77)
Cody Ford (76)
About the ATV Motocross National Championship:
The ATV Motocross National Championship, an AMA National Championship, is the nation's premier amateur and professional ATV motocross series, hosted at top motocross facilities nationwide. The 10-round AMA Pro and 9-round amateur series features the Nation's best racers, teams and sponsors, and is America's largest and longest-running ATV national motocross program. Since 1985, the series continues to expand and produce top talent from the amateur ranks, while premiering the professional class. For more information, please visit www.atvmotocross.com.
About the American Motorcyclist Association:
Founded in 1924, the AMA is a not-for-profit member-based association whose mission is to promote the motorcycle lifestyle and protect the future of motorcycling. As the world's largest motorcycling rights and event sanctioning organization, the AMA advocates for riders' interests at all levels of government and sanctions thousands of competition and recreational events every year. The AMA also provides money-saving discounts on products and services for its members. Through the AMA Motorcycle Hall of Fame in Pickerington, Ohio, the AMA honors the heroes and heritage of motorcycling. For more information, visit www.americanmotorcyclist.com. Not a member? Join the AMA today: www.americanmotorcyclist.com/membership/join.
Series Media Contact:
Kayla Bolton
Media Manager
[email protected]