Vechery Racing Race Report from Ironman
Time
Monday, June 8, 2015 | 2:20 PM
Vechery Racing/Never Sleep Designs' Casey Martin took home a season best seventh place overall finish and Ronnie Higgeron finished tenth overall at the inaugural Ironman Raceway in Crawfordsville, IN this past weekend at round five of the Mt. Dew AMA ATV motocross series.
The fifth round of the series marked the half way point for our pro riders and for an added surprise Ronnie Higgerson was featured on the event t-shirts for this inaugural event. Spirits were high coming into the first moto of the day as Higgerson was looking to build on his momentum from the previous rounds. The first moto would see another great performance put in by Higgerson with a top three hole shot on his Dasa Powered/TDR Built Honda. For the next few laps Higgerson would battle with the fastest riders on four wheels until eventually settling into fifth place. After his first moto finish Higgerson was looking forward to moto two; however, Mother Nature would have other plans. With a delayed start and deep water covering the track Higgerson would once again find himself in the top four. Unfortunately, even with the team's best effort to prepare for the muddy conditions Higgerson's Honda would overheat on lap five giving him a 16th place finish which would result in a tenth overall on the day.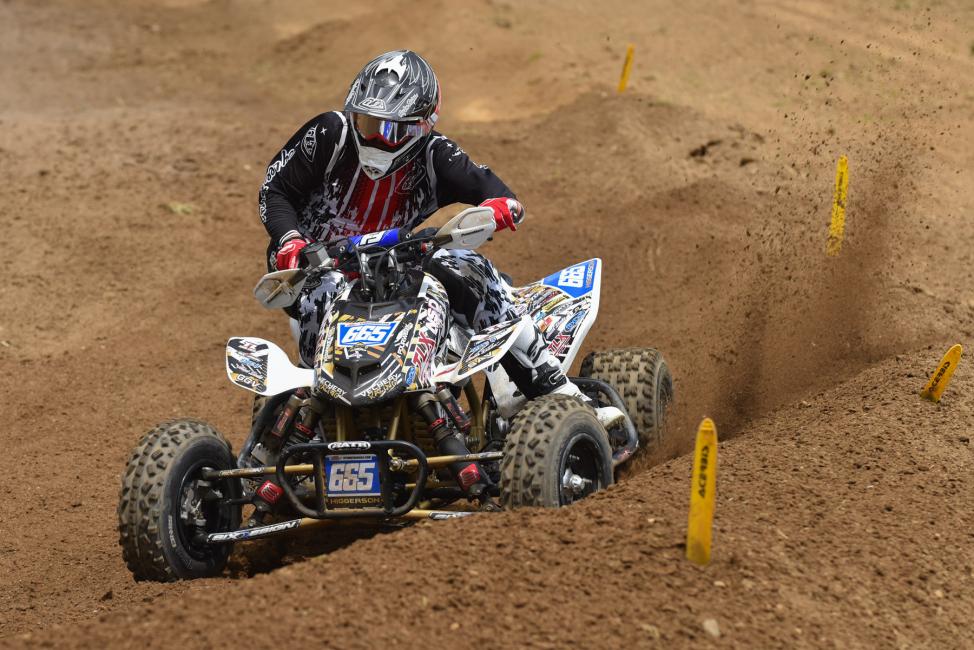 "Well this past weekend definitely could have gone better, we ended up with a fifth place finish first moto but soon after the skies opened up and literally flooded the whole facility. We prepped for mud and the whole team came together to prepare for it the best we could, but unfortunately the quad overheated and I was unable to finish. No worries though, these things happen. I did not get hurt and we are only half way through the season, plenty of time to make up ground. I want to thank everybody so much for everything they do for me....my team, my family, my friends, and supporters...Thank You!" said Higgerson. Going into round six Higgerson currently sits seven points out of fifth place.
Frenchburg, Kentucky's Casey Martin would have the better day of the two Vechery Riders in the mud as Casey would capitalize on the rough conditions to take home his best overall of the year. In moto one Casey would go on to finish in his familiar top ten position with another top ten start. For moto two the team would put on a fresh set of Maxxis cross country tires and adjust the ride height on the Elka Shocks to prepare for the muddy conditions. Casey would utilize these changes to ride a smart and consistent second moto crossing the line in seventh place giving him seventh overall on the day.
"I had another good day at the national at Ironman MX. Slowly creeping my way into the top ten in points which I'm very happy with considering I missed the first points round and barely any riding between races. Another huge thank you to the whole Vechery Racing crew and all of our great sponsors that support us," said Martin.
Vechery Racing/Never Sleep Designs Satellite support riders and Louisiana duo of Alex Pafford and Bryce Barber had an eventful weekend in the Midwest mud. Alex would go on to finish tenth in Youth All Star and ninth Schoolboy Senior. Bryce would go on to finish 12th in Open B and sixth in 450B. Youth rider Tristan Evans would take home first, second and sixth place finishes on the weekend.
Vechery Racing heads to Rd 6 of the Mountain Dew ATV MX National Championship at Sunset Ridge MX - Walnut , IL on June 13th and 14th. Be sure to follow Vechery Racing on Twitter and Instagram as well as Facebook for all of the team updates and results.
Vechery Racing would like to thank their sponsors for their continued support: TLX Transport Division of AWL Transport, Never Sleep Designs, MAXXIS Tires, Elka Suspension, Dave Schrock of DCS Truck Repair, Greg Pafford of Pafford EMS, Aunt Linda, Corrosion Specialties, Six 5 Design, TDR, Hetrick Racing, Fourwerx Carbon and Titanium, State 8 Motorcycles, SSI Decals, Meyer Coating, Hinson Clutch Components, Precision Racing Products, Baldwin Motorsports, DASA, Yoshimura-R&D, Streamline Performance, Rath Racing, Carlton Harley Davidson, TAG, (Ronnie Higgerson is sponsored by Fasst Flexx Handlebars) CP Carrillo, Twenty7 Promotions, Weekend Warrior Motorsports and Mechanic Adam Zeleznikar.